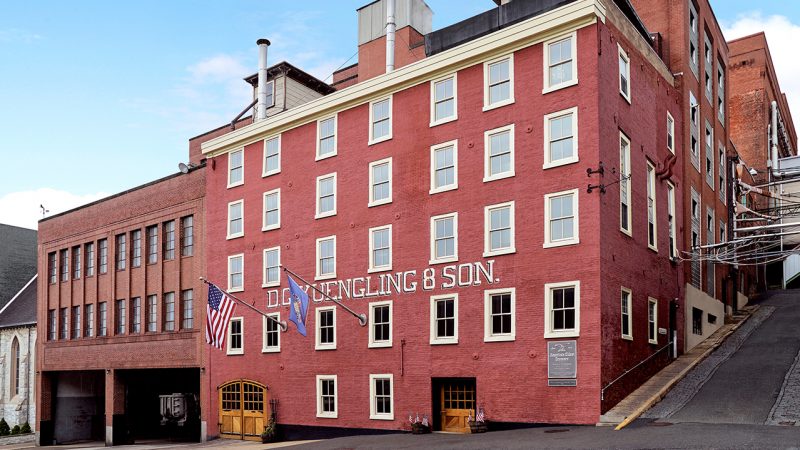 Welcome to America's Oldest Brewery
420 Mahantongo St, Pottsville, PA
Come tour Yuengling, America's Oldest Brewery, a short drive away in historic Pottsville, PA. Experience nearly 200 years of American brewing history. Discover our famous hand-dug caves that were used for beer fermentation before refrigeration and our iconic brew house with its breath-taking stained glass ceiling. Check out how we survived Prohibition at our adjacent creamery business and current gift shop & tasting room.
NOTICE: Completely closed shoes (we recommend sneakers) and face masks are REQUIRED. For additional visitor information, please review the guidelines and tour requirements prior to your visit.  Thank you! 
PLEASE BE ADVISED: On Thursday, September 24, access to the tasting room will not be included in the brewery tour. However, limited beer sampling will be available.

Tour Info
Get Directions
Where To Stay
Where To Eat
Events
Brewery Tour Hours
April – December
Monday – Saturday:
10:30 am- 3:00 pm*
Sunday:
Closed
* As of June 19th, tours are by reservation only.  Weekday tours run every half hour.  Last tour starts at 3:00 pm.
---
January – March
Monday – Friday:
10 am – 2 pm
Saturday & Sunday:
Closed
Gift Shop Hours
April – December
Monday – Saturday:
9:00 am- 5:00 pm
Sunday:
Closed
---
January – March
Monday – Friday:
9 am – 4 pm
Saturday & Sunday:
Closed
Holiday Closings:  New Year's Day, Memorial Day, Independence Day, Labor Day, Thanksgiving Day, Christmas Day
Tour Info
Tours are open to the public and FREE for all ages
Reservations are required
Face masks are required
Completely closed shoes are REQUIRED. We recommend sneakers.
Tours last about 30 minutes
Valid ID will be required if you wish to sample after the tour
Beer for Grabs
Grab a cold Growler of your favorite Yuengling to go!  See sales associate for details.
General Tour Info
Free Tours for ALL ages.
Reservations are required (click here to reserve your time). No person(s) will be added to any tour in session. Please plan your travel arrangements accordingly.
Face masks are required
If you are interested in a private tour, please contact us at (570)-628-4890.
Completely closed shoes are REQUIRED to go on tour. We recommend wearing sneakers but we do have sneakers available for purchase at a nominal fee.
For Pottsville Brewery FAQs, click here.

The Yuengling Tampa Gift Shop is closed and tours are NOT available effective Wednesday, April 17, 2019. We apologize for any inconvenience but we are planning for a major project to improve our Tampa facility. We will continue to be operating tours and events at our Pottsville Gift Shop, home of America's Oldest Brewery. Please check our social channels and Yuengling.com for more information on future announcements in Tampa. Thanks for your continued support of our brands.