return to top
190th
What is Yuengling Brewery doing to celebrate its 190th anniversary in 2019?
• This year, Yuengling is celebrating our 190th anniversary with exciting announcements and events, including the release of limited-edition, 190th Yuengling Traditional Lager beer cans. These five commemorative cans pay tribute to Yuengling's enduring history, and the entrepreneurial spirit and relentless determination that has made it America's Oldest Brewery. The cans are collectors' items, and Yuengling is releasing a new can design each month between December 2018 and April 2019.
• Yuengling is hosting a summer concert event in Pottsville that will give local community, fans and visitors an opportunity to join the 190th celebration with music, food and of course, beer on July 13!
• Consumers can follow us on social media for a chance to enter to win a contest and also participate in our on-pack contest. Social media prizes include gift cards from Uber, Atom, Stub Hub and Uber Eats. Shoppers can win hundreds of prizes from partners like StubHub, Uber, Atom and Martin Guitar, plus a chance to win the Good Times travel getaway.
• Small batch beer! To celebrate our 190th Anniversary, we're introducing limited-edition, small batch series beer: Bourbon Barrel Reserve. The brew is available in very limited quantities and only at our Pottsville brewery on draft at select events. A portion of proceeds are donated to Pink Boots Society, a non-profit organization that inspires and encourages women beer industry professionals to advance their careers through education.
Why is Yuengling starting to create a Bourbon Barrel Reserve?
While we continue to support our core portfolio in our footprint, offering a small batch beer just in our Pottsville Brewery to delight consumers and give our brewers some time to experiment is one way we are celebrating our 190th anniversary.
Will the Bourbon Barrel Reserve be available outside the brewery, on draft, or packaged?
Bourbon Barrel Reserve is only available in the Tasting Room at the Pottsville Brewery at select events. It is not available for sale outside of the brewery, or in package beer.
What was produced for the first small batch?
Last year, Yuengling introduced Bourbon Barrel Porter.
When will the Bourbon Barrel Reserve be available?
We will continue to offer select events throughout 2019 as part of the brewery's 190th Anniversary. Please follow our social media channels and events page for announcements on exciting future events.
History
Is Yuengling really family owned and operated?
D.G. Yuengling & Son, Inc. is owned and operated by Richard (Dick) Yuengling, Jr. This fifth generation owner is in the Pottsville facilities daily. Dick's passion is in the plant: the brew house, on the bottling line and at the truck docks. However, he can be found in the lab for his morning coffee followed by daily visits to each department.
Dick's daughters and sixth generation, Wendy Yuengling, Jennifer Yuengling, Debbie Yuengling Ferhat, and Sheryl Yuengling are all members of the Yuengling staff. Wendy and Debbie work in administration and Jennifer and Sheryl are in production and shipping.
What happened to the Yuengling Dairy plant?
The Yuengling Dairy plant located across the street from the Yuengling Brewery has since been renovated and in 2016 opened its doors to the public. It now serves as the new location for the Pottsville gift shop and tour tasting room. All Pottsville tours begin at the new location.
What part of Germany did the Yuengling family come from?
David G. Yuengling came from Aldingen, Germany. Aldingen is a town in Wuerttemberg in the southwestern part of the country.
If Yuengling has been operating since 1829, what did they do during Prohibition?
During prohibition, Yuengling made near-beer which was .5% alcohol. The family also opened The Yuengling Dairy, the former ice cream and dairy plant, which remained open until 1985.
Does Yuengling Brewery still own the ice cream business?
Yuengling's Ice Cream is a now privately owned family run business, not associated with Yuengling Brewery. Visit their website here.
What is the name of the bar in the Pottsville brewery?
The Rathskeller was built in 1936. Rathskeller is defined as a tavern below street level featuring beer; originally a German restaurant in the basement of city hall.
Beer
I have a quality concern, who do I contact?
Please fill out our Quality Concern form and someone will respond to you in a timely manner.
What is your brewing process?
You can view our brewing process here
Where do you distribute?
Currently, our distribution is limited by production capacity and location of our three breweries which service our current Distributors throughout our footprint. We would like to add more states in the future as we grow the company, but currently, there is not a specific timeline in place for expansion.
Can I purchase beer direct from you?
We do sell beer in our Pottsville gift shop, but at this time the brewery is not permitted to ship beer direct to consumers.
How do I find Yuengling beer near me?
Try using the Beer Finder. You can search by your favorite brand, type of location, zip code, and radius to the closest Yuengling near you.
Is beer available for purchase at your Gift Shops?
Yes, the Pottsville Gift Shop sells beer.
Do you have gluten-free, Kosher or other restricted diet beer?
Our portfolio of family beers includes Light and Light lager which are both under 100 calories, however the family of beers are not gluten-free or Kosher beers.
How do I determine if my beer is still good?
Yuengling products are best within 120 days of being packaged. The production code is an 11 digit number located on the bottom of the can and on the neck of the bottle.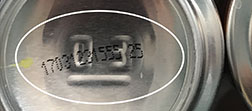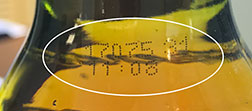 The first 2 digits are the year in which it was produced. The 3rd, 4th, and 5th digit are the day of the year in the Julian Calendar (For example, beer packaged on February 1st would be stamped with 032 because that's the 32nd day of the year.) The 6th digit is the location where it was produced (#1 is our Pottsville brewery, #2 is our Tampa brewery, #3 is our Mill Creek brewery). The 7th digit is the production line number, and the last 4 digits show the military time it was produced. For the above example on the left, this beer was produced on 1/31/17 at our Tampa brewery.
I want to carry Yuengling in my bar/restaurant/liquor store, who should I contact?
Currently, our distribution is limited by the capacity and location of our three breweries which service AL, AR, CT, DC, DE, FL, GA, IN, KY, LA, MA, MD, MS, NJ, NY, NC, OH, PA, RI, SC, TN, VA, and WV. If your establishment is located in one of the states, you can find a local distributor here.
How many breweries does Yuengling have?
All Yuengling products are produced at three company owned breweries. There are two in Pottsville PA and one in Tampa FL. Fans are invited to come visit both our Historic Pottsville Brewery and our Tampa location, both are open for tours.
Are Yuengling Beers Vegan?
Yes.
Do Yuengling Beers contain GMO ingredients?
Like many beers, our products may contain ingredients from GMO strains.
Are Yuengling Beers pasteurized?
All packaged beer (cans & bottles) are pasteurized and all kegs are unpasteurized.
Are Seasonal Brands available everywhere?
Our seasonal brand distribution varies by region. If you cannot find search results on the beer finder, please reach out to your nearest distributor to inquire about the schedule.
What is the Alcohol Content of Yuengling Products?
You can learn more about your favorite Yuengling product in Our Beer section.
Does Yuengling, or can Yuengling distribute to Military Bases around the world?
The AAFES purchases Yuengling products direct from the brewery and distributes it to bases overseas. AAFES handles all of the logistics but the brewery does not know which bases receive our beer. Additionally, due to state laws, the AAFES is not permitted to send beer to US Bases that are outside of our current distribution area.
Why is my state listed on the Deposit Bottle Labels/Can tops when Yuengling is not sold in my state?
The deposit labels and can lids list all states that require deposit information. These packages are only redeemable for a deposit refund in the state in which it was purchased. Retailers in states where Yuengling is not distributed will not honor the refund because a deposit was never paid to their state on that package when the product was purchased.
Visit
Do you offer brewery tours?
Free public tours are available at the location registered as America's Oldest Brewery in Pottsville, PA – and at the sunny Tampa, FL, brewery. Find hours and tour information for Pottsville, PA,  or Tampa, FL.
How can I prepare for my tour?
Please remember this is a working and actively running brewery. You will encounter a real manufacturing environment. Here a few reminders:
1. All tour visitors must wear completely closed shoes. No sandals, flip flops, clogs, Crocs, or anything with openings around your foot is acceptable. It must be a completely closed shoe. To be safe, sneakers work best.
2. During the tour, visitors may experience sudden changes in temperature throughout the brewery. You will also experience elevated noise levels in various departments.
3. Please note the tour is not wheelchair accessible. Be prepared to walk stairs. Visitors can enjoy a free sample (ID required) or visit the gift shop while visiting the brewery if they choose to opt out of tour.
Are tours free?
Public tours are free. Group tours are available for a small fee. A reservation is required for group tours.
Do I need to make a reservation?
Reservations are not needed for public tours but be sure to show up 15 minutes before the offered tour time.
Reservations are required for groups of 15 or more. Group tours are available a nominal fee. Please refer to Visit Us for more information on booking group tours.
Do you have to be 21+ to go on a brewery tour?
No, but an ID is REQUIRED to sample beer.
Sponsorship
I would like Yuengling to be at my event, who do I contact?
Contact your local distributor to see if they are able to participate by representing the Yuengling Brands at the event.
I would like Yuengling to sponsor/donate to my event, what is the process?
Sponsorship and Donation requests are reviewed and considered on a local level with our wholesale partners. Contact your nearest distributor with this request to see if it is something they are able to participate in on our behalf.
I would like Yuengling to donate money/beer/merchandise to my organization, where do I submit my request?
Donation requests are reviewed and considered on a local level with our distributor partners. Contact your nearest wholesaler with this request to see if it is something they are able to participate in on our behalf.
Does Yuengling sponsor race cars, drivers, or teams?
At this time, the brewery does not participate in motorsports marketing.
Can I host my private event at Yuengling?
Private events are currently not available to the public. Your group is welcome to come take a tour of the facility, but there is not a dedicated meeting space available for private events.