Yuengling Partners with Pink Boots Society to Launch Yuengling Women in Brewing Scholarship
POTTSVILLE, PA (September 5, 2019) – D.G. Yuengling & Son, Inc., America's Oldest Brewery®, announced today a $50,000 donation to the Pink Boots Society, a nonprofit focused on assisting, inspiring and encouraging women beer professionals. With this donation, Pink Boots will partner with Yuengling to launch the Yuengling Women in Brewing Scholarship to further advance education for women in the brewing industry.
"We are so grateful to collaborate with Yuengling Brewery to introduce this new scholarship program," said Laura Ulrich, Pink Books Society President. "Pink Boots Society exists to empower women in the beer industry and set them up with the tools and resources needed for a long, successful career."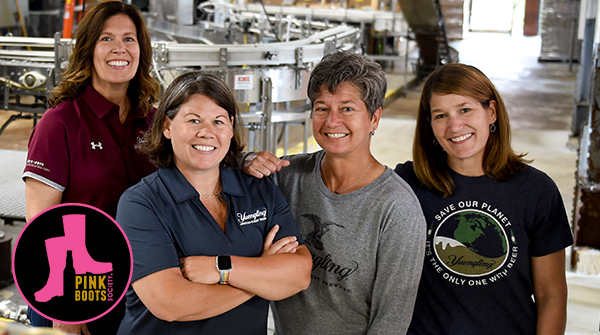 The Yuengling Women in Brewing Scholarship will award two exceptional women in the brewing industry up to $12,500 in scholarship funds to build upon their technical knowledge and leadership skills. Beer professionals can apply to one of several brewing courses that meet their level of experience and needs. These programs are available in online or classroom formats and offered by top institutions including:
Pennsylvania College of Technology
University of the Sciences in Philadelphia
Cincinnati State
University of South Florida
Harrisburg Area Community College
Siebel Institute of Technology
Cornell University
This year, Yuengling's sixth generation family members and female leadership – Jennifer, Wendy, Debbie and Sheryl Yuengling – are celebrating the brewery's 190th anniversary and recognize the importance of education to the next generation of brewers.
"As America's Oldest Brewery, we owe much of our 190 years of success to the knowledge and skills that were passed down from the five generations before us. My sisters and I will not only continue to drive the success of the brewery, but are excited to embark as the first female-owned generation in our history," said Debbie Yuengling, 6th generation family member, D.G. Yuengling & Son, Inc. "That's why we look forward to joining forces with the Pink Boots Society to promote education among brewing professionals and keep the beer industry thriving."
The first application period for the Yuengling Women in Brewing Scholarship will close on September 30, 2019. A second application period will open in spring 2020. For more information about the Yuengling Women in Brewing Scholarship or to apply, visit https://www.pinkbootssociety.org/yuengling-women-in-brewing-scholarship/.
###